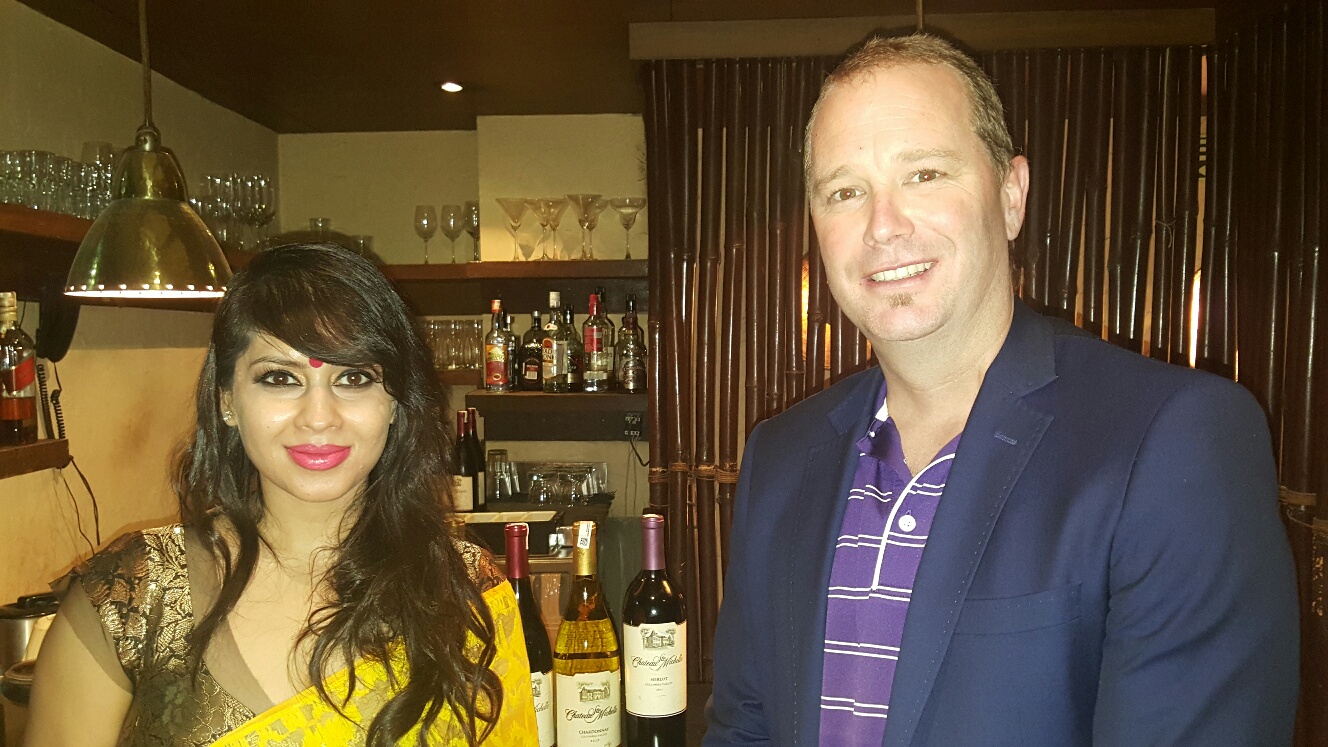 19 Nov

Encore for Madame La Cave at Diva Un-Wined Dinner

March 22: The wine appassionata Madhulika Bhattacharyya, the charming wife of Aman Dhall, the soon-to-be born-again biggest wine importer, and proprietor of La Cave fine wines and spirits store in the Select City Mall, has had a string of wine dinners in Delhi to create Branding for her store and organised successfully two back-to back wine dinners, writes Subhash Arora who was present at the dinner at the Gulati Spice Market last Saturday followed by the one at the Italian Restaurant Diva the next day

I have known Madhulika for almost 15 years. She always had passion for life and passion for fun. What can be a better common denominator than wine! When an opportunity arose last year, she convinced her husband Aman Dhall who was the biggest wine importer till last year, to help her develop a modern Retail shop where her focus would be wines-including medium to high quality wines for discerning customers whom she could advise and guide and who don't have much problem with the cost; you educate them to understand wines and if they like something they would buy it instantly.

In the short span of less than 6 months she has successfully brought the business to a point where she is already talking about expanding to 3-4 more stores in Delhi and opening new ones in Mumbai and Bangalore with the expert guidance and financing-of course from her husband. She has been creative from day one and has sought to create a unique selling experience.

Madame Madhulika Bhattacharyya, who I addressed one day as Madame La Cave in a lighter vein, loved the 'title' and took it as her pseudonym. One of the promotional activities she started beside having a French Sommelier at the store to explain to customers about different wines, was the wine dinners that she calls 'Un-wined' dinners, three of which I was invited to. The first four were themed after foreign wine companies represented by Brindco, the last one being last Saturday at Gulati Spice Market when the Export Manager of Washington-based Chateau St. Michelle, David Andrews was in Delhi, Mumbai and Bangalore.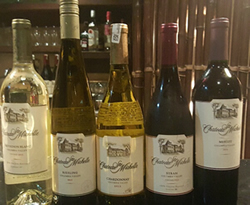 The 'invite-only' dinner was well attended and show-cased 5 wines including a Riesling (a consumer's choice unlike the Eroica label that David said was a Sommeliers choice –mine too) Sauvignon Blanc, Chardonnay (which I found too oaky for my palate but other guests generally seemed to love it), Merlot (my absolute favourite, matched the bhuna chicken with missi roti like a charm) and a Shiraz that paired well with the delicious-as-ever Indian cuisine dished out by the dexterous Chef Chiquita Gulati.
Un-Wined Dinner by Madame La Cave at Diva
The crescendo was reached on Sunday at the Un-wined Dinner at the Diva Restaurant where Chef owner Ritu Dalmia made an appearance to welcome guests before disappearing to catch a flight but leaving the kitchen in the deft hands of her Head Chef Shivanjali Shankar Saxena.
The dinner was private and exclusive and the invitees were mostly her big-ticket clients who have the palate and the purse evolved enough to buy the finer and more expensive wines. Incidentally, the most expensive wine she has sold so far at La Cave, in the Select City Mall-is a Chateau Palmer 1996 for a little over Rs. 60,000. Her one regret is that she had only one bottle in stock then. Another pricey wine she has sold is Cristal 2002 Champagne for Rs. 35,000.
Madhulika feels that in order to engage with her clients who appreciate good quality and despite the high taxes are willing to splurge on their favourite beverage, she would like to invite them at the mid to high-end wine dinners. She admitted that the idea originally came from the food critic and well-known journalist Vir Sanghvi who is one of her customers and who coaxed her into organising one where the theme would be different. According to the grapevine, he plans to start a luxury wine dining experience business and this could be an evening to get do some experiment too.
They scratched their brains together and decided on the pairing of an Old World wine, a New World wine with the same dish without disclosing the identity of the wine and to be revealed later. I had a slight advantage in that I know most of Aman's import list and if it tasted like a New World Pinot Noir it had to be Villa Maria and the wine next to it would, in all likeliness be a Burgundy and Louis Jadot at that. If one were to take a vote, there could be no question that the red from Pommard would win hands down-but that would be unfair comparison anyway.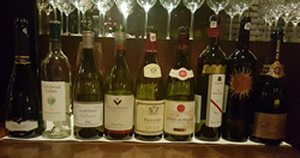 I could guess the following wine as a Syrah from Cotes du Rhone from E Guigal but was very impressed with the young lady sitting next to me at the table. She insisted she did not know much about wines but was able to pin point the Australian Dead Arm Shiraz from d'Arenberg in McLaren Vale in South Australia (I'd say Jai Ho to her!)
Starting from the ubiquitous Ti Amo Prosecco Brut and followed by the fuller body and fruity but crisp Cakebread Cellars Sauvignon Blanc 2013 compared with the lighter bodied, complex and elegant Henry Bourgeoisie Sancerre-there were almost an equal number of takers for each wine. No wine came close to the last red, Luce Super Tuscan with almost equal blend of Merlot and Sangiovese from Luce della Vite in Montalcino which I had the privilege of visiting with the owner, Leonardo Frescobaldi a couple of years ago, and which was an excellent match with my Pork Belly with sweet and sour onion sauce and a creamy pumpkin mesh.
But the surprise was reserved for the end. Pol Roger 2006 Rose Brut is one of the top rated champagnes that I'd love to devour on its own. But with 10 gms of residual sugar one would think it cannot match the sweetness of a dessert-I have come across many a wine dinner where disaster waited to strike at the end when someone forced a Brut Rose champagne with the dessert, completely overpowering it. But the Salted Caramel Tart, Pavlova with wild berries was made with such a delicate balance that there was a juggalbandi of the two in my mouth.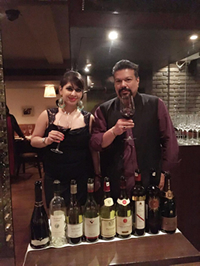 Besides being a perfect hostess, Madhulika showcased her singing prowess later and staked her claim to be at least a mom Diva if not a pop diva. Not the easiest of numbers to sing, she proved that a couple of glasses of wine (the definition modified and twisted a bit here) are good not only with food but also for singing, which added an extra dimension to the evening.
As usual, Madhulika was dressed to kill on both the back-to-back dinners with a colourful yellow Indian sari to go with the Indian cuisine at the Spice Market and a chic black dress for the Italian Opera. I hope sheorganises soon an event with En Restaurant where the cuisine is Japanese or Lavaash by Saby with Armenian food or the Chinese cuisine at Yauatcha, not only to enjoy the food and wine pairing but also for having a peep at the depth of her wardrobe.
She promises such themed dinners in future also, adding some more fun to the wine dinners. It reminds me of an instance when the Delhi Wine Club was formed in 2002 and one member had said that there was already a Club called 'Wine Society' in Delhi so why we should not merge since there was no room for two clubs. My instant response was that Delhi should have at least a hundred such clubs to propel the wine culture. Growing at a much lower rate than I had predicted or wished, Madam La Cave dinners send a very positive signal. If her guests can shell out Rs. 23,000 for Gaja Barbaresco, Rs. 14,000 for a Luce, Rs. 14,500 for a Masi Amarone or a Cristal 2006 champagne can be picked up for Rs. 32,000, one can predict that this growing breed of consumers will explode in the not-too-distant future, belying the myth that due to the high taxes the growth was stinted. 'They are certainly an important negative factor but how a luxury product like these wines is marketed, is also an important factor, an issue that Madame La Cava has taken upon herself to address,' she says.
Encore for her song! Encore for another similar dinner!!
Cheers to Madame La Cave! Jai Ho to Madhulika Bhattacharyya!!
Subhash Arora