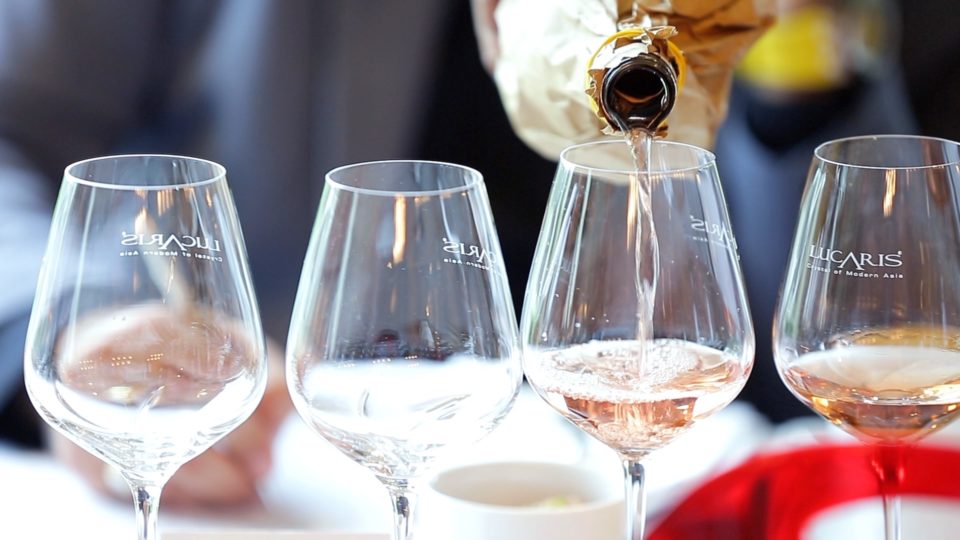 19 Nov

INDIAN FOOD & WINE: THE ETERNAL QUESTION OF PAIRING
A segment at the recent India Wine Awards 2018 was dedicated to discovering the wines that best paired with Indian food. Founder Sonal Holland MW explains why this was an important task
It is a topic of great interest with wine lovers and critics – the Indian food and wine conundrum. It deserves focused attention. There are websites devoted to finding perfect pairings, and no matter where in the world you live you might have seen pictures of wine tasting events and people dining at spiffy black-tie dinners and Michelin-starred restaurants, where the gorgeously-plated multi-course repasts are invariably accompanied with a glass of wine or three.
The eternal question of pairing
Have you ever wondered if this would work in India…. maybe a glass of wine at Sunday lunch at home with a nice biryani, paneer tikka or Kerala fish curry?
Wine critics and experts have been asking themselves this question for ages with no conclusive answer yet. One reason for that is that Indians usually enjoy eating their meals family-style, sharing dishes of a variety of flavours and spice levels (often chili or pepper hot) depending on which part of the country they live in. So will a highly-rated oak-rich Bordeaux red wine be a fit with my chicken tikka and dal makhni?
The wine industry in India is still scratching the surface of this subject. Because truly, can wine fit in with this great pyramid of complexity and variety that is our everyday Indian food known as 'ghar ka khana' (simple home-cooked food)? According to Sonal Holland MW, the founder of the awards, the simple answer is yes. And the India Wine Awards provided the perfect forum to delve a little deeper – get the home perspective and find a few aha moments, so to speak.
Holland's argument is simple: "We were keen to bust the myth that Indian food and wine do not pair well. Our success comes if we can place wine on dinner tables at people's home, proving this is a beverage that can be enjoyed with food."
So on Day 2 of the jury session, 18 judges were assigned 9 dishes to taste with a total of 120 wines entered for the category. The wines ranged from simple whites and reds to Champagnes and those richly oaked red wines. Both Indian wines and imported wines in India were put up to the pairing test.
Some of the dishes were fairly atypical choices for wine pairing, picked by Holland and her co-chairs of the food and wine pairing segment, Sameer Malkani and Sourish Bhattacharya, both noted names in the food industry. Why these dishes? "We chose food people could relate to – we wanted to keep it real," explains Holland, "Litti chokha, Goan prawn curry, chicken Chettinad are everyday Indian foods." To add to the challenge, many of these dishes contained sour or tangy ingredients –  tomato and tamarind – or were spice-rich,  both considered difficult if not impossible pairings according to conventional wisdom. "Then, to add some fun, we added gulab jamun, which most critics would consider way too sweet to pair with any wine at all."
The session was an interesting one. Our jury table got two tough options – the Goan prawn curry, delicious yet tart and dal makhni, a rich butter-laden lentil dish. You might wonder, but yes, dear reader, we had several "Aha!" moments that surprised us through the extended blind tasting session.
Complicated subject, simple results
The outcome (complete results here) showed two things, said Holland. "Many Indian wines won the best pairing, though I haven't yet analyzed why. Perhaps it was the residual sugar that is present in many Indian wines, often made simply, in fruit-forward style." The second finding related, though no less interesting. "We discovered was that simpler wines paired best with complex dishes (most Indian dishes are complex). Often pairing is far more enjoyable with easy-drinking fruit-forward wines." This, she believes is "a real opportunity for the wine industry in India."
Digging a little deeper, I asked how important the practice of food and wine pairing was for India, given our nascent culture of wine appreciation and preference for wine as an aperitif? And given the varied cooking styles, techniques and ingredients in India how decisive or relevant did she think the pairings would be?
"Only important to the extent that its important for us in India to position wine as a food-friendly beverage. We drink it socially, we are aware it is less intoxicating and generally healthier. We should encourage its consumption with food, which further slows alcohol absorption. Plus, wine is best in the company of friends and loved ones." All these positives needed reinforcement, she said.
For Holland, the food and wine pairing was not meant to be a technical exercise, rather an enjoyable one. "I'm personally thrilled that the simple wines did well. As long as there are no negative pairings, food and wine are meant to complement one another and be enjoyed."
To further reinforce this idea, the gala evening was preceded by a masterclass Holland conducted along with Victoria Burt MW of the WSET. Members of the media and the wine trade sat and sipped, a range of wines paired with Indian food like galoutikebab and paneer tikka. "The WSET does workshops across the world, but they had never before paired wine with Indian cuisines and thought it very relevant. We also wanted trade and consumers to understand and experience how these pairings work."
The response was all she hoped for. "I had wine producers and sommeliers come up to me and tell me they had learned a thing or two at the masterclass.
We had given them food for thought."